Free Admission Sunday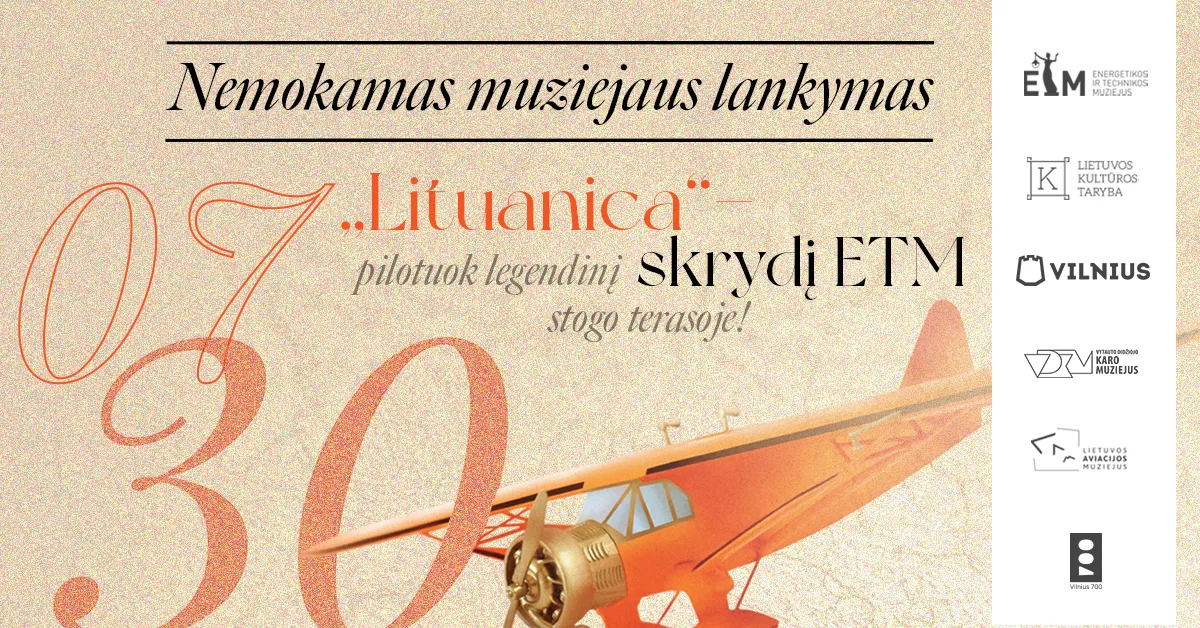 On the last Sundays of the month, Energy and Technology Museum invites you to visit the largest technical museum in Lithuania free of admission charge. Here you will find: the industrial environment of the old power plant and the remaining authentic equipment, an interactive hall "Science and Technology for Kids", a bright fun slide, control panel simulator and an interactive "Lituanica" airplane in the ETM roof terrace.
The historic flight of "Lituanica" turns 90 this year. From July, on the roof terrace, you will find an interactive replica of the "Lituanica" – after entering the small cockpit of the "Bellanca CH-300 Pacemaker", you can start the plane and assess the conditions the pilots flew in.
On weekends in the ETM courtyard we make "Water Rockets"! Rocket – a vehicle, flying device or weapon? Who invented it and could we make a rocket ourselves? We will launch a working rocket in the air in the ETM courtyard. When planning to participate in the workshop, please bring plastic containers: 2 plastic bottles are needed to make 1 rocket (or we will provide them for additional 50 cents).
Curie and Newton workshops run engaging scientific experiments for the whole family. In the Curie Workshop, we boil liquid nitrogen, using simple household materials produce hydrogen gas and non-Newtonian (both hard and soft) fluid. What vitamin makes iodine colorless when mixed with it? This and more – in the chemistry lab.
In Newton Workshop, we interactively present Newton's laws, energy losses, pass an electric current through the body, create a fire tornado and experiment with butane gas. The price of additional activity is 2 Eur/person. There is no pre-registration, tickets are available on the spot, at the museum infocenter.
There is no pre-registration to Transformation Hall – it will be possible to visit it while waiting in a live queue. Up to 100 visitors can visit the hall at one time. As every weekend, there will be guided tours and a Tesla shows, the price of which is 3.50 Eur/person.
The Transformation Hall was created to inspire interest in science and technology, to present exact sciences in an understandable and engaging way. Each exhibit consists of a historical narrative and an interactive challenge. After completing the challenge, you will generate energy, which will be converted into Quantums of energy, and you can exchange Quantums for souvenirs and a Transformation Hall Engineer certificate.
In the Boiler Hall, Laurynas J. Kamarauskas' photography exhibition "Volume As a Verb" is open. In theTurbine Hall, the installation of sound artist Tata Frenkel "How One Becomes Foucault's Pendulum?" is on display.
See you at the ETM on museum Sunday July 30th. The museum is open from 10 AM to 6.30 PM.
—
The creation of "Lituanica" was supported by the Lithuanian Council for Culture and Vilnius City Municipality. Partners: Vytautas the Great War Museum, Lithuanian Aviation Museum and Vilnius 700.