Vilnius 700 exhibition "Salve, Vilnius'DCC"
2023-03-07
|
Recurring Event
(See all)
An event every day that begins at 00:00, repeating until 2023-04-30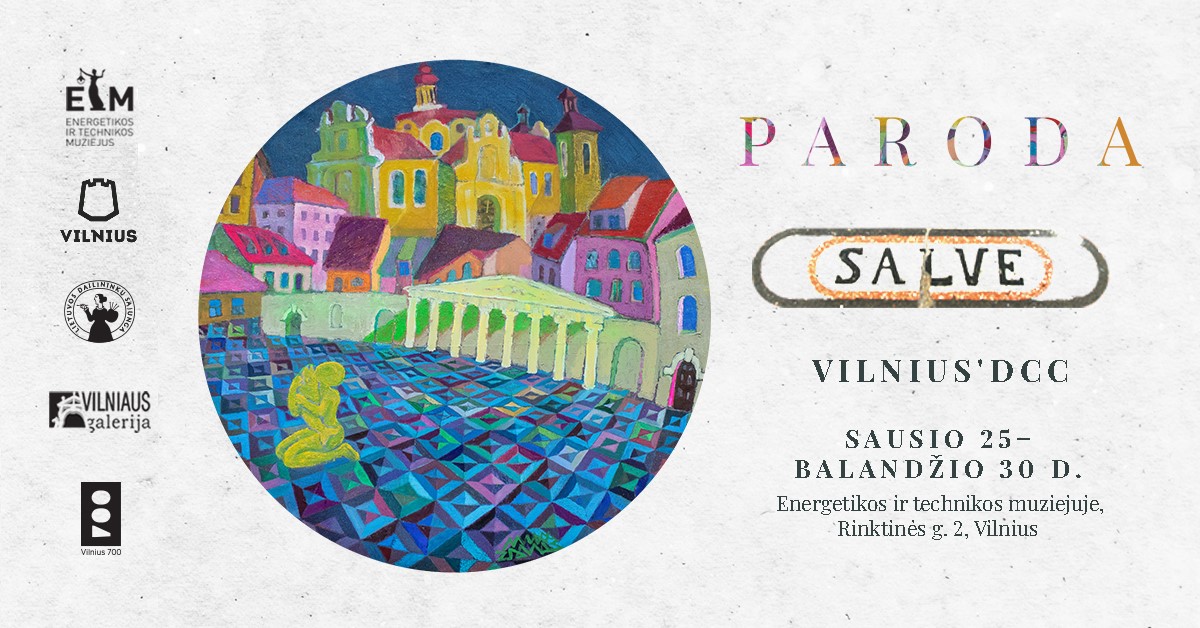 On January 25th, at 5 PM, the exhibition of group artists "Salve, Vilnius'DCC" will be opened in the Energy and Technology Museum. The exhibition takes place in Boiler Hall and museum Roof Terrace.
The final exhibition "Salve, Vilnius'DCC" of the continuous project "Salve, Vilnius" at the Energy and Technology Museum is dedicated to celebrating the uniqueness of the city of Vilnius for its 700th anniversary. The anniversary of the capital will be celebrated for the first time in 2023, as exactly 700 years ago, on January 25, 1323, Vilnius was first mentioned as the capital of Lithuania in the Latin letters of the Grand Duke of Lithuania Gediminas to the cities of Western Europe.
The name of the exhibition was inspired by the Latin inscription "salve" (Latin: hello) on the doorsteps of some old residential buildings in Vilnius. It is a respectful address to the landlord, resident or incoming guest.
The round art objects are non-incidental. Decorative compositions of the circle date back to antiquity and later Renaissance. The sculpturally sleek form of the works of art is a hint of the winding streets of Vilnius Old Town and the round details of its old architecture.
In the exhibition, the works of the artists establish a kind of dialogue with the city. The authors reflect on selected important artefacts of the history of Vilnius and, after placing them in a non-traditional format, turn them into a new story.
The exhibition project started in 2018, last year it was also held at Energy and Technology Museum. A total of 104 artists participated in the exhibitions over five years: painters, sculptors, graphic artists, textile artists and creators of interdisciplinary art who have created non-traditional works of art in round shapes: tondo, elliptical, arched paintings and sleek sculptures.
In March, the occasional exhibition was complemented by children's creations. Like the professional artists, the young creators were given the task of creating works of round shapes. This part of the exhibition is intended to unite Vilnius children's and youth clubs, employees and children, while creating works to commemorate the significant anniversary of the capital. The exhibition exhibits the educational works of Vilnius children and youth clubs "Klevas", "Kregždutė", "Verdenė" and "Lakštingala".
Project author, the curator of the exhibition is Ričardas Zdanavičius
Full list of "Salve, Vilnius'DCC" exhibitors is here.
 The exhibition will be on display from January 25th, 2022 to April 30th, 2023.

 The opening of the exhibition is on January 25th (Wednesday), at 5 PM.

Admission to the opening of the exhibition is free. Visiting the exhibition on other days – after purchasing a museum visitor's ticket. 
Exhibition organizer: Energy and Technology Museum
Sponsor: Vilnius City Municipality
Partners: Vilnius 700 Initiative, Lithuanian Artists' Association and Vilnius Gallery