At Energy and Technology Museum, Belarusian artists Sviatlana Petushkova and Andrej Shaporov recreated a printing press with which Francysk Skaryna printed the first book in the Grand Duchy of Lithuania. Husband and wife, both graphic artists, were forced to flee Belarus in 2020 due to political persecution. They found refuge in Vilnius, where they now live and work.
2022 in Lithuania has been declared the year of Skaryna. Next year marks the 500th anniversary of the establishment of the first printing house in Vilnius and in all Eastern Europe, and the publication of the first book in the Grand Duchy of Lithuania – Skaryna's "Small Travel Book" (1522).
Skaryna is the pioneer of book printing in the Grand Duchy of Lithuania, a printer, a book publisher and a fosterer of intercultural dialogue, he is considered one of the great historical figures in Belarus. "This project is symbolic for us, Shaporov said. We are Belarusians, researchers and custodians of ancient printing equipment. When we found ourselves in Vilnius due to political persecution, we looked for opportunities to continue our work. We have learned that next year in Lithuania is declared the year of Skaryna. Then, in cooperation with Energy and Technology Museum, we prepared this project. "
Escape from Belarus
Petushkova is a graphic artist, art curator, her husband Shaporov is a graphic designer and a maker. In 2019, they founded the Belarusian House of Graphic Arts in Minsk, where they were organizing exhibitions, workshops, auctions and festivals of contemporary art.
After the controversial 2020 presidential election in Belarus, Shaporov launched a series of works entitled "Five Stages of Mourning for Aliaksandr Lukashenko's Regime." He managed to finish two works when he was prosecuted for publishing ironic works of art.
"It simply came to our notice then. We have publicly expressed our political views before. When the criminal proceedings were instituted, I was summoned to the Ministry of the Interior. It is known, that when people get in there, they don't get out. We realized that we have two days to leave the country," Shaporov said.
The "Freedom House" organization helped artists cross the border into Lithuania. "We have created a story that we are artists going to the plein air in Lithuania. We took paint, canvas, paper – just as many items as would not give rise to suspicion – and a dog. We thought we would leave home for a short time – a couple of months. The perception that I would have to stay was shocking," Sviatlana recalled.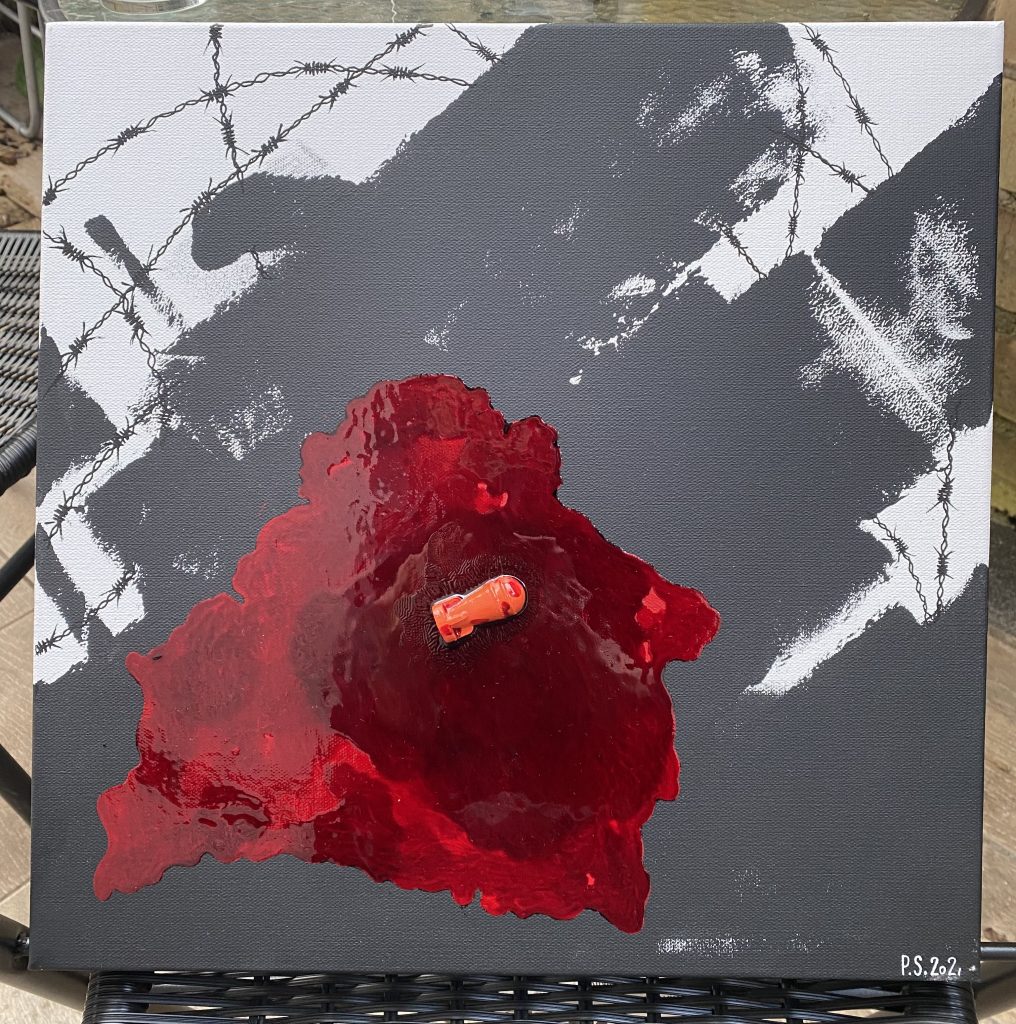 From prison to prison
Some of Sviatlana's and Andrej's colleagues also fled to Ukraine, Poland or Germany. "Another part, probably about a third, went through the prison system and then fled the country. The rest have come to terms with the current situation, deleted previous posts on social networks and are now creating apolitical art," Andrej said.
He has previously worked in the political and social arts, criticizing Vladimir Putin and the arrest of Alexei Navalny. In the summer, in Vilnius Lukiškės Prison, the couple organized an exhibition of installations "27" about 27 years of Lukashenko's rule. "We escaped from prison – we ended up in prison, Sviatlana joked. – Political issues were traumatic and tiring for me. Therefore, I am now immersed in the opposite creation – I paint acts. In addition, the old graphics seem significant to me. It has a lasting value. "
Artists continue to curate the activities of the Belarusian graphics house, teaching other artists how to work with the equipment there, only now they do it remotely. "We are one of the few specialists in antique printing equipment, especially lithography. When we learned that next year had been declared the year of Skaryna, we thought, who if not us," Sviatlana said.
General story
Skaryna is extremely important for Belarusian culture and historical memory, as he wrote in the old Ruthenian language, trying to make the Bible accessible and understandable to ordinary people. He traveled to many European countries at a time when the ideas of humanism were spreading across Europe, he was an advanced and progressive man.
Skaryna used a hand-held printing press based on the machine tools invented by Johannes Gutenberg, that accelerated the publishing of books around the world. "We don't have exact data – Skaryna could have made improvements, Andrei said. We have seen printing machines in various museums – the oldest of them, of the 17th century, can be found in Germany. Not many examples have survived, as wooden printing presses often burned in fires. We adapted the information about the materials that existed in the Middle Ages and used it in production, and thus restored this press. "
The artists will also recreate the font used by Skaryna, create a new educational program and train museum guides to use the printing press. They also hope to print a copy of the historic "Little Travel Book". One of the originals in Belarus was purchased by the presidential candidate, art collector Viktor Babarika. When he was convicted, the arrested Babarika's collection fell into the archives of the "Art-Belarus" gallery. "A couple of months ago, the arrest was lifted and the book saw the light of day again. We have a printing press, we have a book – we can also reproduce a copy of it – it would be an important event," Petushkova is convinced.
This project of Energy and Technology Museum is intended to commemorate the year of Francysk Skaryna and to present the cultural heritage interactively. The printing press used in Skaryna's printing house in Vilnius was restored in collaboration with professional artists from Belarus – Sviatlana Petushkova and Andrej Shaporov. On December 31st the exhibit will complement the Museum's Industry exposition. In 2022 educational and creative programs will be presented, which will allow the public to get acquainted with the old printing technology and Skaryna's work.
Project sponsored by Ministry of Culture of the Republic of Lithuania.