On September 14th (Wednesday) at 5 PM the exhibition "C O N T A C T" by Vidmantas Jusionis and Gediminas Akstinas opens in the Boiler and Turbine Halls of the Energy and Technology Museum.
Vidmantas Jusionis:
"I exhibit my favorite format brightly colored oil canvases, suitable for the space of the Energy and Technology Museum and at the same time contrasting with the neighborhood of authentic technology. In the museum I present paintings from various periods. It's like a mini-retrospective.
The oldest exhibited works are "Chilling Rain", 1995, "Pink Longing", 2005, later their motifs, construction, characters, formats are repeated in one way or another until today. The color relations change, the dominance of blue is replaced by red, yellow… My favorite characters also repeat themselves, as well as their movement in a circle or lying down…
Repetition and change is an important combination for me in this exhibition. Each painting is independent, and all together offer a common field of feeling. I hope that the exhibited works will give the viewer the freedom to perceive feelings or meanings and their own interpretations. I aim for the entirety of the exhibited paintings to create an evocative, emotionally affecting space where coexist the figures of various characters or their absence – emptiness."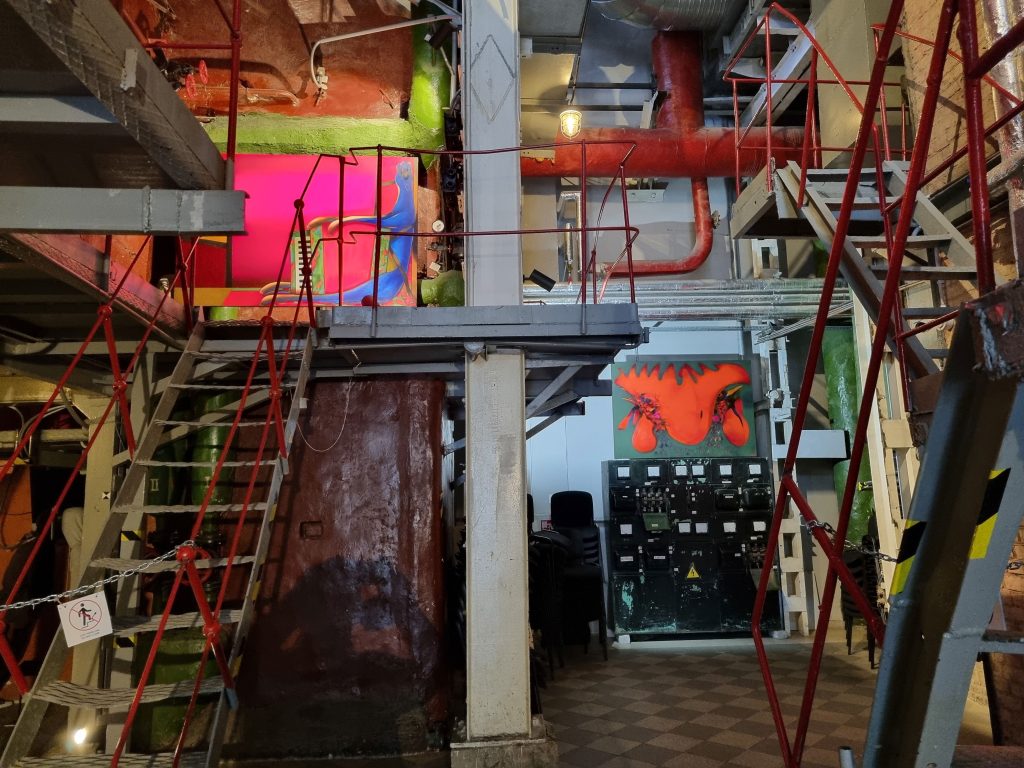 Jusionis (born in 1961) is a painter who graduated from the State Art Institute of Lithuania (now Vilnius Academy of Arts). In 1985-1987 he taught at the Šiauliai Pedagogical Institute, since 1987 he has been teaching at the National M. K. Čiurlionis School of Art, participates in exhibitions in Lithuania and abroad. The painter's work is dominated by surrealistic zoomorphic motifs, sharp combinations of pure colors reminiscent of medieval stained-glass, semantic meaning of images, attention to decorative expression, boldly breaking stereotypes. The author's works are owned by the Lithuanian National Museum of Art and private collectors.
"The greatest intrigue of Jusionis' painting is the paradoxes between the depicted motifs and stylistic nuances. On one hand, looking at the painted figures of animal-phantoms traveling or resting, thinking or having fun, we recognize our own human nature. The author says that while painting these figures, he immediately sees people. Therefore, metaphors and allegories are important to Vidmantas, embodying the features of the cat or dog families hidden in us, and sometimes the characters of monsters," Rita Mikučionytė.
"Who are the characters of Jusionis? Wolves? Dogs? Werewolves? Beasts? Shadows? Hysterical cats? Or is it us? Our fears and doubts? Passions? Fates? Our conscience? Hallucinations? Unconscious (or maybe conscious) desires? Or is it simply an ironic view of our animalistic, predatory society? Of our dog life? Is man an animal or an animal human? How is it really?" Tomas Ivanauskas.
"Phantasmagoric animals take up residence in the compositions of the paintings, like cataleptic centaurs of the imagination. They lie with their stomachs up, somehow uncomfortably twisted, as if their bodies are stretching and melting from the heat, but they are calm, barely breathing, and the viewer becomes a witness of this idyllic fragmented pseudo-reality, as a voyeur. Maybe these phantoms are rolling in the artist's frozen sunshine, maybe they are already dead, maybe they were never alive…" Evelina Januškaitė-Krupavičė.
—
Gediminas Akstinas:
"I am presenting two of my past works, "It Begins and Ends in Bed" and "Rat", made in 1985-1996. One of them is from the international symposium "The Forgotten Present", which took place in Didžioji st. 3-5, in Vilnius (currently the cafes are located there). I can't reinterpret these works because those feelings live hidden, but they are important to me. It was an enjoyable, life-changing activity."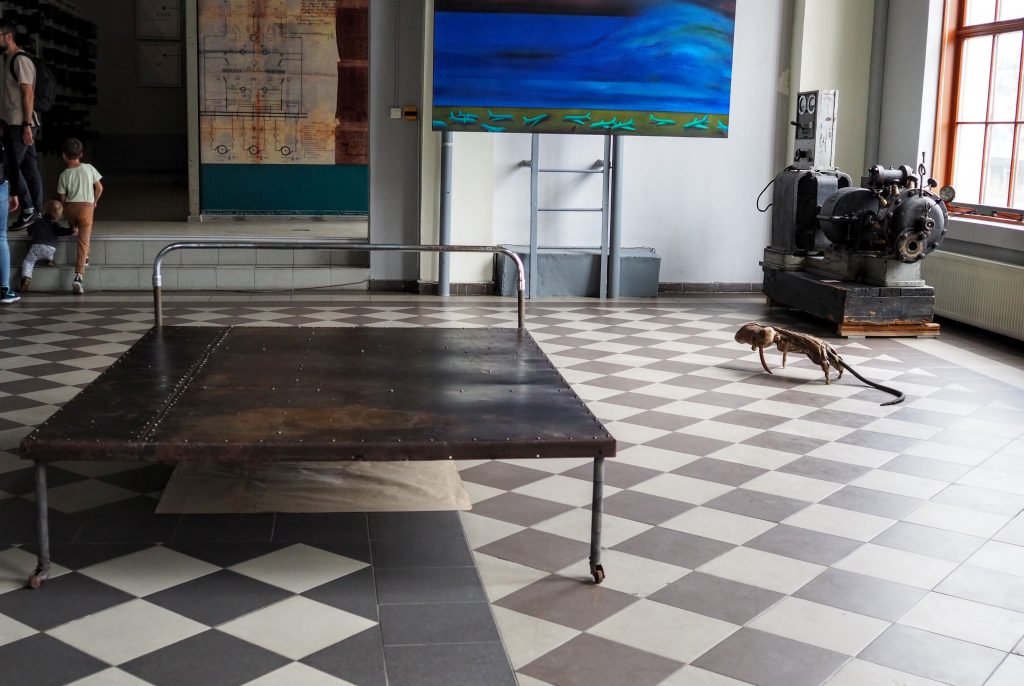 Akstinas (born in 1961) is a painter, who graduated from Šiauliai Pedagogical Institute in 1986. Since 1994 he teaches at the National M. K. Čiurlionis School of Art and since 1987 participates in exhibitions in Lithuania and abroad. In 1998, he held a personal exhibition in Kaunas together with Jusionis. Using his own and others' work (handmade or factory) items, natural objects, he creates art objects and installations. The works are small or large, mostly movable, some are compositionally linked to a specific place. Their paradoxicality and conceptuality are emphasized by cleverly, unexpectedly coordinated and interpreted objects that seem to belong only to the domestic sphere. The author's works are in the Lithuanian National Museum of Art and in private collections.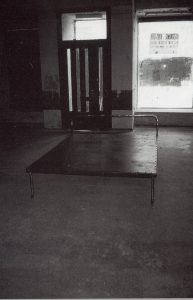 "Akstinas is one of the new classics of Lithuania, reformers of sculpture, who began to appear in the late 1980s and early 1990s of the XX century and pushed the traditional sculpture towards the object and installation. Akstinas' objects also contain a certain performativity – the possibility of implied action. Sometimes, like a blacksmith or builder, he takes on huge objects, and other times, like a watchmaker, he creates small fragile works," Alfonsas Andriuškevičius.
"Akstinas' sculptures are intimate and strange objects. As in Renaissance and Baroque treasures, art lives here in the neighborhood of collections of oddities," Raminta Jurėnaitė.
"Not much can be written about Akstinas' works: more about why and what surrounds them and remains after them. An inversion that leaves room for interpretations that would rather slide into space than clumsily cram onto a piece of paper. All this is because Akstinas works not so much with objects, but with the surrounding space," Jurgita Ludavičienė.
The exhibition will be on display from September 14th to December 4th.

The opening of the exhibition is on September 14th (Wednesday), 5 PM.

Admission to the opening of the exhibition is free. Visiting the exhibition on other days – after purchasing a museum visitor's ticket.