Scientific Experiments in Newton Workshop
2022-07-02
|
Recurring Event
(See all)
One event on 2022-07-16 at 00:00
One event on 2022-07-17 at 00:00
One event on 2022-09-04 at 00:00
One event on 2022-09-10 at 00:00
One event on 2022-09-11 at 00:00
One event on 2022-08-27 at 00:00
One event on 2022-08-28 at 00:00
One event on 2022-07-03 at 00:00
One event on 2022-09-25 at 00:00
One event on 2022-11-12 at 00:00
One event on 2022-11-13 at 00:00
One event on 2022-11-26 at 00:00
One event on 2022-11-27 at 00:00
One event on 2022-10-01 at 00:00
One event on 2022-10-02 at 00:00
One event on 2022-10-08 at 00:00
One event on 2022-10-09 at 00:00
One event on 2022-10-30 at 00:00
One event on 2022-10-29 at 00:00
One event on 2022-12-10 at 00:00
One event on 2022-12-11 at 00:00
One event on 2022-12-18 at 00:00
One event on 2023-01-15 at 00:00
One event on 2023-02-04 at 00:00
One event on 2023-02-05 at 00:00
One event on 2023-02-11 at 00:00
One event on 2023-02-12 at 00:00
One event on 2023-02-26 at 00:00
One event on 2023-03-05 at 00:00
One event on 2023-03-18 at 00:00
One event on 2023-03-19 at 00:00
One event on 2023-03-26 at 00:00
One event on 2023-04-08 at 00:00
One event on 2023-04-15 at 00:00
One event on 2023-04-16 at 00:00
One event on 2023-04-29 at 00:00
One event on 2023-04-30 at 00:00
One event on 2023-05-13 at 00:00
One event on 2023-05-14 at 00:00
One event on 2023-05-27 at 00:00
One event on 2023-05-28 at 00:00
One event on 2023-06-10 at 00:00
One event on 2023-06-11 at 00:00
One event on 2023-06-25 at 00:00
One event on 2023-07-01 at 00:00
One event on 2023-07-02 at 00:00
One event on 2023-07-15 at 00:00
One event on 2023-07-16 at 00:00
One event on 2023-07-29 at 00:00
One event on 2023-07-30 at 00:00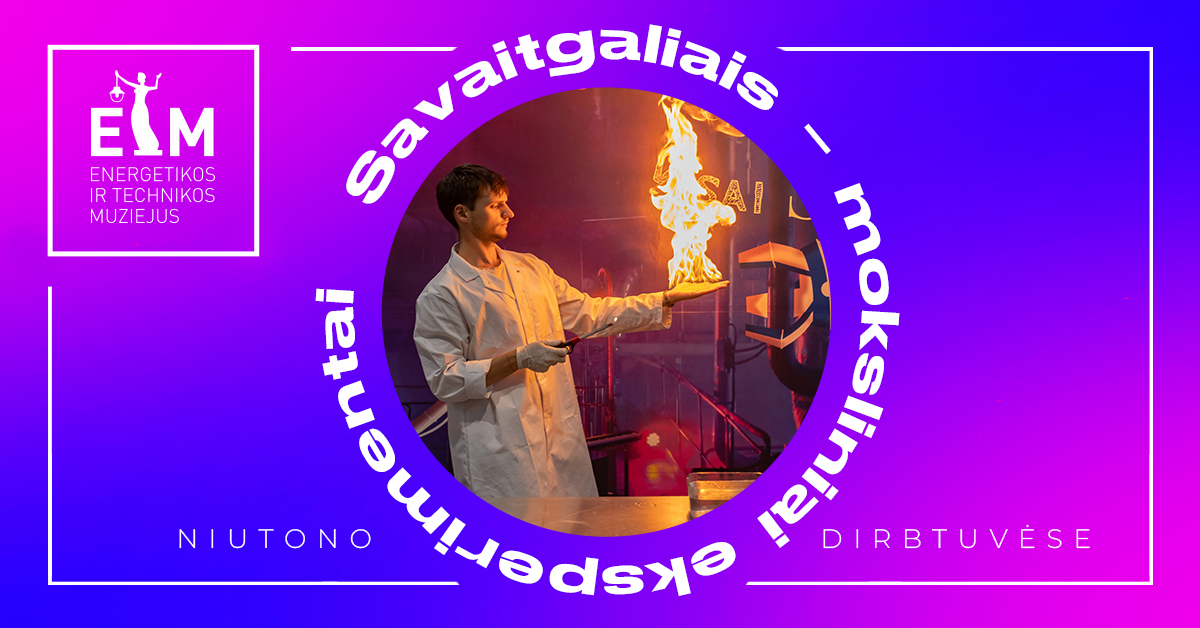 New scientific experiments take place in the mechanics (Newton) workshop. On weekends, visit the Energy and Technology Museum and take part in new activities where you will find out:
What types of energy and Newton's laws are;
Fire or lightning, which are normally dangerous to humans, are tested safely during this experiment – we pass an electric current through the body or light butane gas on the palm of the hand;
We create a fire tornado. In nature, when two air currents collide, a tornado is formed. We recreate the conditions of its formation during a scientific test;
Kinetic and potential energy in the workshop is illustrated by a pendulum suspended from the ceiling – during the swing of the hammer we are talking about frictional force and air resistance – energy loss.
Mechanics experiments take place on weekends:
10.30 AM
12.30 PM
2.30 PM
4.30 PM
5.30 PM
On the basement floor of the ETM, in Newton's Workshop named after physicist, mathematician, astronomer Isaac Newton. The experiments are constantly updated.
Meeting place is the ETM information center. Participation of children (up to 12 years old) – with adult supervision.
Duration of the experiments – 40 min.
Price – visitor ticket + 2 Eur.