Energetic Wednesdays – in the middle of the week, enjoy live music concerts on the roof terrace of the former power plant. In the background of the impressive panorama of the capital, we will get to know the work of Lithuanian and foreign musicians, acoustic, alternative, electronic and live music.
The rhythms of modern music will be heard in the industrial environment of the power plant, as the setting sun illuminates Vilnius's old town.
Events start at 7 PM.
The museum closes at 10 PM.
The events are free of charge.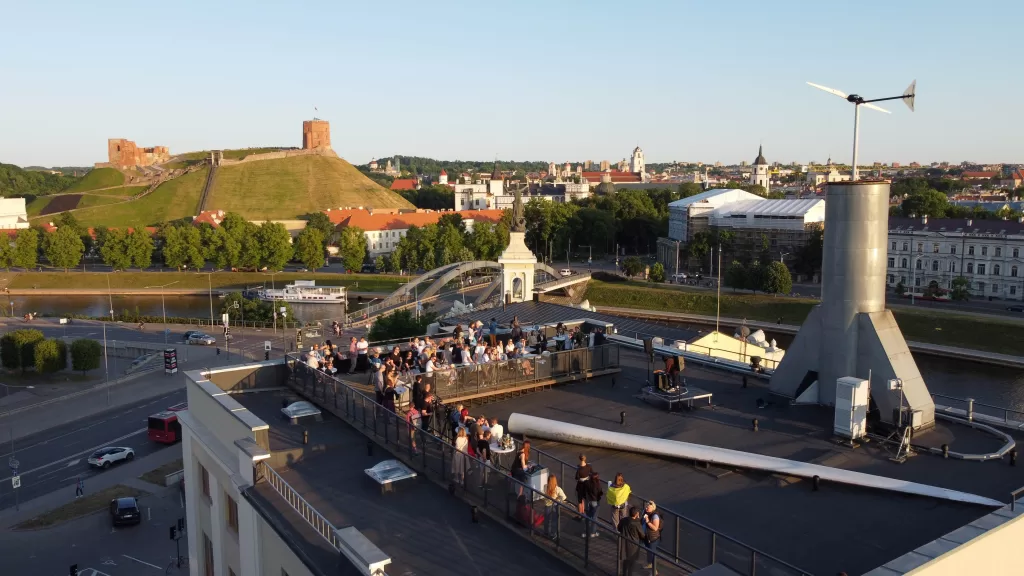 EVENT ARCHIVE
On September 20th on the ETM roof terrace Lukas Norkūnas performed: "I am Lukas Norkūnas from Vilnius. I started playing guitar, singing and writing songs in my teens.
I studied philosophy with the motive of finding a pot of gold of meaning for my songwriting and aspired to be a traveling musician.
I played in the streets and places in Vilnius, traveled around various Lithuanian cities and towns playing alone and with groups, visited TV and elsewhere.
I have released two albums of my own songs in which I played all instruments.
In my songs, I strive to balance the emotional load, meaningfulness of words and musical ingenuity."
Duo "Komforto zona" are Lina Kavalčiukienė, performer, author of music and lyrics, and guitarist Julius Stankevičius. Having met at one of the music festivals, the duo performs original songs.
"We are peace and storm in one. When there is a connection in music, it also takes others away, takes them to the comfort zone!" – they say.
Lyrical sound of piano and electric guitar – music that does not fit into frames. Lyricism, vigor, sensuality, longing, but also bursting energy – electronics, sung poetry, rock, and folk notes are interwoven here.
On September 6th, the acoustic program of Justė Kraujelytė was played. Kraujelytė has been on stage for 25 years. Starting with the vocal jazz ensemble KIVI, which received international recognition and the most serious musical achievements, Justė was seen as a member of many musical projects and groups (Breakfast for Two, OKATA, Big Balagan Band, Netikėti svečiai, Pluie de Comètes), chameleonic, embodying many roles, but recognizable from soft timbre, self-deprecating lyrics and strong, spark-like energy, which is easily replaced by melancholic colors and moods.
Called the Lithuanian Roisin Murphy and surprising conceptual performances in the national "Eurovision" selections, the artist has already received the label of a provocateur. The creator, who prepares unconventional video clips and album presentations, pays a lot of attention to visual aesthetics. The creator's main creative theme is mental health, her debut album "Therapy" was evaluated as a fresh breath in the alternative pop scene.
Having started her solo career in 2020, Justė is already preparing her third album with a short film about imposter syndrome, which will be released next autumn. Songs from the albums "Therapy" and "Nejausmas" were played during the concert.
Dovydas Mindaugas Buidovas (stage name – Domibu) appeared on stage together with Juste. Music producer, electronic music creator, performer and bass player is currently creating and performing together with Evgenya Redko, Konstantinas Lilas, Rokas Yan, Petunija, Gina Shee and producing and creating Justė Kraujelytė's latest album "Imposter".
On August 30th songwriter and performer Aistė Lukoševičiūtė held an acoustic performance where she presented her latest work. Aistė, who works in the singer-songwriter genre, draws inspiration from her own experiences and those around her, and invites everyone to hear them!
XTET is a self-critical band that has been established for a long time, but is only now making its debut -without artificial intelligence.-
On August 23rd played:
Drums – Eugenijus Pugačiukas
Bass – Arūnas Kemėšis
Saxophone – Saulius Valikonis
Guitar – Rokas Smilingis
Voice – Eliza Bondarenko
A gypsy, daughter of the wind, enchantress and innovator, she left traces of her journey around the world. Gaia Mobilij is a sophisticated loop sensation that brings your different travel experiences into her work. Istanbul, Mexico city, Barcelona, Mumbai: Gaia has been at home in many places and processes the influences of these cultures directly in her performance. Armed with vocals,an accordion, electronics and a variety of small instruments, audiences quickly wonder what a single person is musically capable of.
With her synthesizer and other electronic equipment, she is not afraid of electronics, her Bulgarian Raga and other Balkan songs, as well as Italian, Latin American, Indian and Gypsy resonances.
Travel around the world in 80 minutes!
More music – here.
"Sun Francisco" are creators of a different, more alternative pop music, combining different moods, genres (from nostalgic synthpop to experimental flamenco) and languages (Lithuanian, English and Spanish) in their songs.
Giedrė is responsible for the vocal lines and lyrics of the works – the laureate of many singing competitions, the second place winner of the first season of Lithuanian "Voice". The band's songs are arranged and produced by Maksas, who surprises himself and Giedrė almost every time with new, unexpected harmonies.
In July, "Sun Francisco's" mini-album "123" was released, which was recorded after the artists temporarily settled in the south of Spain. In this Spanish-Lithuanian (or Lithuanian-Spanish) work, the duo interprets the musical styles of reggaeton, flamenco and tango in their own way, while the Lithuanian lyrics talk about the constant comparison imposed by social media, addiction to the spotlight and burnout.
On the roof terrace of the Energy and Technology Museum, songs from the album, previously released works already liked by listeners, and songs that have never been heard anywhere were be played.
On August 2nd, KooperatiV, 18-year-old electronic music (EDM/SYNTHWAVE) creator from Vilnius, performed. KooperatiV is studying music at the Vilnius Balys Dvarionas Music School. He started creating electronic music 4 years ago, and a year ago started participating in underground concerts. The young talent mainly writes instrumental compositions, but in live performances he also sings own songs in English.
KooperatiV has released 3 EPs and 2 albums available on Spotify. The artist has also released a CD, which can be purchased at concerts.
KooperatiV played on the roof terrace of Energy and Technology Museum on August 2nd. He draws inspiration from Deadmau5 and Carpenter Brut. Message from the artist: "Calling electronic music lovers. It's going to be a good night and thump thump thump music".
On July 26th singer, songwriter Agnė Buškevičiūtė presented her debut album "New Start". Buškevičiūtė is a professional young generation singer, songwriter, actress and television personality. Last year, she presented her first original song "New Start" and took part in the Lithuanian "Eurovision" song contest. On July 21st Agnė's debut album "New Start" was released, which includes even more original songs full of mystical, cinematic and epic sound, and on July 26th she presented all the songs of the album live on the roof terrace of ETM.
"New Start" is the first album of this sound and genre (epic / cinematic pop) in Lithuania. It consists of songs in Lithuanian and English. The sound of the music and the creation itself are inspired by movie soundtracks, Nordic and Scandinavian countries, motifs of songs by Celtic music creators, and fantasy world themes. A soft classical voice and instrumentally colorful arrangements take the listeners to magical worlds where there are mythological creatures, magical nature, heroic and magical adventures.
More music here.
Attention! The band "Morėsakys" group is on your roof. They are not going to get off. They are going to play. After seeing the band "Morėsakys", it is recommended to listen to their music and move to the rhythm. If unintentional eye contact is made, it is recommended to back away slowly.
The band has been playing alternative music of its own creation for more than a year. They climbed onto the roof of the Energy and Technology Museum on July 19th.
In the evening of July 5th on the ETM terrace – a newly formed band with the subtly provocative name "Mylėti's" ((Make)Love), which recently released its first album "Sugrįžk" (Come Back), performed.
In the band's work, trip-hop, which is not yet so popular in Lithuania, intertwines with elements of alternative and dark pop music styles.
On June 28th Lina MinOre (Lina Kavalčiukienė) was live. Lina is a songwriter and performer who, as the name suggests, is close to the minor tonality. A warm and sociable person, so everything is in the air (ore) for her! She performed the original program, accompanied by the piano and her own arrangements. On June 28th – musical evening stories surrounded by piano sounds.
On June 21st the concert started with DJ Saga. Saga started mixing dance music with tape recorders back in 1986. One of the first in Lithuania to start playing records, he hosted musical radio and TV shows and wrote articles about the ideology of electronic music.
Saga has collected a variety of electronic music in his music library, from reggae, dub, chillout to nu breaks, techno, psy trance and hardcore. DJ Saga may also weave older tracks from KLF, "Prodigy", "Chemical Brothers", "Underworld" and "Daft Punk" into the program.
He was joined by drummer SampL1n – after this year's Vilnius Street Music Day duo continues to experiment by combining music played from tapes with live drums.
Ukrainian musician and artist Make Like a Tree toured Europe this week. On June 6th he stopped in Vilnius. On ETM Roof Terrace – his free indie/folk/electronic performance.
Make Like a Tree is a quintessential of travels expressed in music and photography created by Sergey Onischenko – artist from Ukraine who is touring round the world and spreading his indie-folk tunes with a touch of non-conformism and Beat Generation ideas and exhibiting his minimalistic landscape photography taken in omnifarious places during his journeys.
—
Snacks and drinks are provided by the ETM café "Elektrinė". The number of seats is limited.
*In good weather, we recommend taking care of sun protection.